The Lava Necklace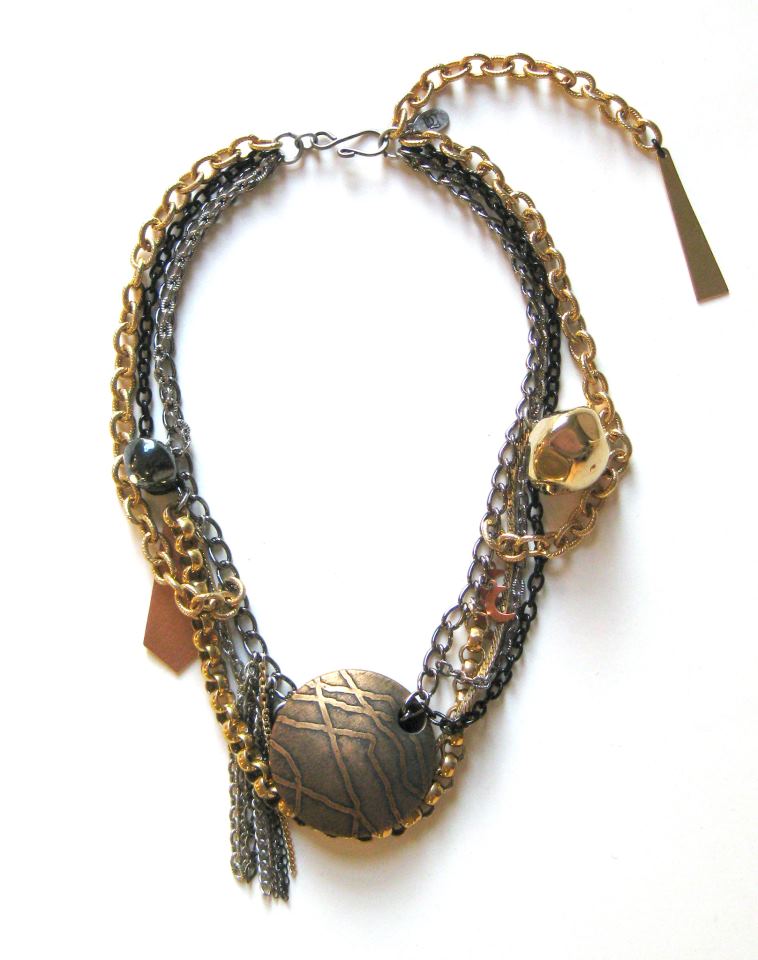 Behold the limited run of the Lava Necklace by Dirty Librarian Chains here at Settlement! There are only 7 of them EVER, so contact us at info@settlementgoods.com to for more pictures and pricing!
About the Lava Necklace:
The convertible necklace can be worn either as a choker length with a chain drop down the back, or as a longer classic collar shape. The Lava Necklaces are all made by hand by the designer Susan Domelsmith in her Brooklyn studio using components from past eras.  Every piece in this series is slightly unique as a result of using available materials from the 1960's to the 1980's.  Susan returns to her signature draping style in statement form with a mix of vintage chains in silver and gold with accents in copper, brass, and hematite.  The beads, charms and some of the chains are sourced from a US based jewelry factory that has closed as mass market production took over and moved overseas.  The rest of the components were hand selected by the designer on one of her road trips around the US.  As Domelsmith creates all of her designs with a zero waste model, the owners of these pieces will know that this statement piece was formed with a beneficial impact on the environment.
The striking patina on the focal brass disc component is natural with extra details added by hand, the pieces were then tumbled to complete the aged look.  A handmade porcelain vintage hematite bead is placed near a brushed copper diamond shaped charm.  Three tiny moon copper moon charms and a gold plated bead from the 1970's add impact and balance the necklace.  The charm on the extending chain looks striking when worn down the back as the choker length and is composed of a gold charm secured with a black enamel chain link for added contrast.
***The designer behind Dirty Librarian Chains, Susan Domelsmith, will be making a special appearance at Settlement Goods in the Spring of 2013 to rework your vintage and heirloom pieces into necklaces, bracelets, earrings and rings that you will adore forever.  Start setting aside your pieces to bring in now!***