Peppercotton is here!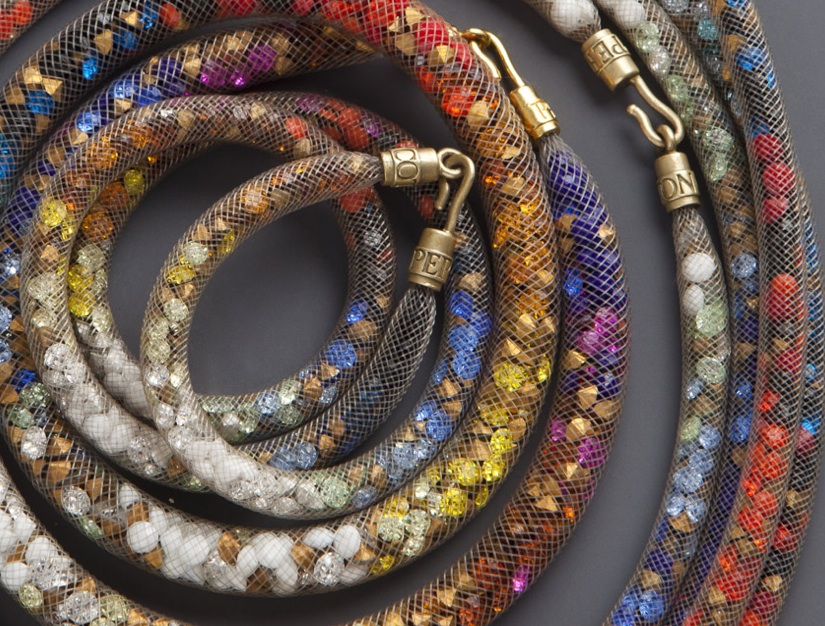 …and we couldn't be more excited!
Shimmering strands with subtle transitions of color are just the right thing to get you into Spring!
"Once upon a time, a boy called Patrick Culpepper met a girl named Aurelia Cotton at the Rhode Island School of Design. Although Patrick focused on painting while Aurelia studied apparel, the pair always found themselves working together. Their creative union strengthened in 2008 when they collaboratively designed Aurelia's thesis collection.
After hearing a large Swarovski crystal donation was sequestered in a clandestine tower on campus, they sought their bounty like pirates to buried treasure. Though the future of their liberated booty remained uncertain, to let this resource remain untapped felt a crime.
Coincidentally, similar motives encouraged them to impulsively purchase spools of discounted tubular mesh at a sale months prior. Finding themselves atop a mountain of mesh and a sea of loose crystals, they realized how to apply both to Aurelia's collection. Like sausages, they stuffed the tubes full of loose crystals, and the Peppercotton aesthetic was born. Beautiful as their crystal-encrusted garments were, the medium would sell best as jewelry.
Three months after Aurelia's graduation in 2009, they went into business as Peppercotton. Moving to Brooklyn soon after, Patrick worked for artist Gwenn Thomas while Aurelia assisted designer Susan Cianciolo. Each mentor educated them about working for yourself as an artist in New York without compromising your integrity. It was through Cianciolo that they met Maryam Nassir Zadeh, and her namesake store became the first to sell Peppercotton in 2011.
Their collection decorated the influential shoulders of New York's fashion elite including style icons like Becka Diamond and Andrew Mukamal. Legendary stylist Lori Goldstein became one of their earliest fans, demonstrating her devotion by featuring Peppercotton in "A Call for Camp" for Vogue Japan in June 2011 as well as the controversial "Haute Mess" cover story from April 2012 Vogue Italia." from Peppercotton.